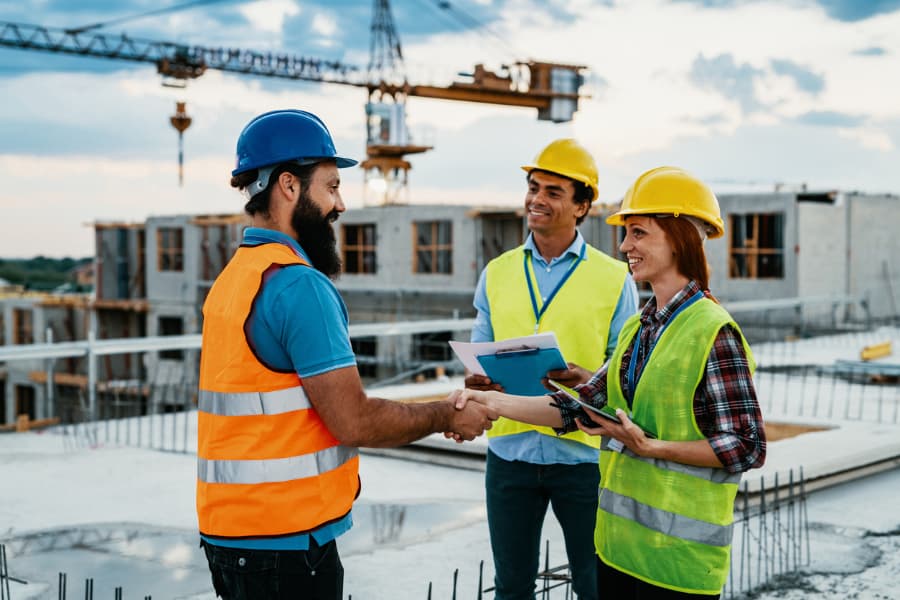 Safety Precautions for Concrete Operations
Ready-mix concrete is a primary component of any construction project, and it is important to ensure the safety of crews working with and near concrete laying operations. The U.S. Bureau of Labor Statistics reported more than 174,000 workplace injuries or illnesses in the private construction industry in 2020. Following concrete safety best practices can reduce the chance of injury on your worksite. Best Concrete Mix Corp. has built a strong reputation for safe concrete services in and around Flushing, NY. Here, we discuss safety precautions for concrete operations.
Best Practices for Concrete Safety
Wear Personal Protective Equipment (PPE)
Protective gear and Personal Protective Equipment (PPE) are necessary components of onsite concrete safety guidelines. Wet concrete can cause chemical burns and irritation when it contacts the skin and mucous membranes. Working with concrete requires crews to work on their knees and carry heavy gear. Workers should protect their knees with waterproof knee pads and wear back protection when lifting heavy loads.
Falling concrete and blowing dust or wet splatter can also be a risk. Workers should wear hard hats, goggles, and face protection rated for concrete work. Steel-toed boots, long shirts, and pants protect the worker's body from exposure to concrete and heavy objects dropping on the worker's feet.
Employ Proper Techniques
Concrete operations require lifting support and framing structures, heavy equipment, tools, and wet or dry cement. Heavy objects should be lifted by a team of two or more workers and with equipment such as a forklift if necessary. Equipment operators and manual lifters should employ proper techniques to lift without injury or risk of falling objects. Workers should lift with their legs and keep their backs straight without awkward twisting.
A concrete safety manager or a certified trainer should teach workers how to use equipment properly and operate machinery. Avoid using equipment for unintended purposes that can pose a risk to the operator and other personnel. Concrete placed in a wheelbarrow, pump, or chute should not be lifted. Instead, it should be pushed to avoid overexertion. Use mechanical and powered equipment to bring concrete as close to its destination as possible to avoid stressful lifting.
Use Safe Equipment
Equipment should be procured for its intended use and regularly inspected for functionality by a concrete safety manager or similar individual. Avoid using broken or unsafe equipment, such as shovels with broken handles, malfunctioning mixers, and wheelbarrows with flat tires that can result in accidents and injuries. Powered equipment for concrete laying should always have proper concrete safety systems and features, such as splatter guards and safety shutoffs. It should not be manipulated to negate or work around safety features.
Working Conditions
Always conduct concrete-cutting operations in well-ventilated areas to minimize dust exposure. When pouring concrete in a cold environment, work in a heated enclosure if possible and ensure workers keep warm and well-hydrated throughout the day. While warmer temperatures from 70° F to 80° F are often better for pouring and curing concrete, they can be a problem for workers. Operators and workers should have a cool and shady place to rest, wear hats with wide brims, and stay hydrated with plenty of water.
Have Eyewash Stations on Site
An eyewash station is a vital component of a concrete safety system, protecting workers from severe injury. Every concrete operations worksite should have an eyewash station with a supply of clean water, alkaline-free soap, and clean towels. It will minimize injury if a worker gets dry concrete dust or wet concrete on their skin, eyes, mouth, or nose.
Rely On a Safe and Professional Concrete Operation in Flushing, NY
Concrete safety is essential to any concrete laying operation and can prevent injury to workers using ready-mix concrete. Consider what makes a concrete laying worksite safe when choosing the right concrete supplier, and ensure you work with a professional concrete operation that follows concrete safety best practices. Minimizing workplace injury helps you complete your project faster.
Best Concrete Mix Corp. is a professional concrete operation in Flushing, NY, that delivers trustworthy ready-mix concrete products and services safely and efficiently. Since 1992, we have been the leading concrete supplier in New York, and are recognized by the National Ready Mix Concrete Association and New York City School Construction Authority. Contact us at 718-539-5946 for expert concrete laying operations.