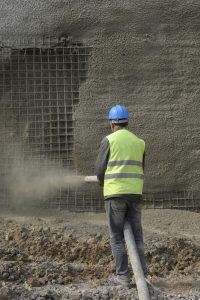 Gunite concrete, sometimes referred to as shotcrete, is commonly used in swimming pools but has become increasingly popular among builders as an economical and flexible application for numerous types of projects. Our knowledgeable concrete contractors at Best Concrete Mix Corp. in Flushing, New York, explain the benefits of gunite concrete and help you determine whether it's the right type of concrete for your specific building needs.
Gunite Composition And Application
Gunite is often described as looking like modeling clay and offers a smoother surface due to a low aggregate content. A gunite concrete mix contains finer aggregate particles and less water than standard concrete, which allows for low water permeability rates and less shrinkage. It also dries and sets faster than standard concrete and readily adheres to curves and overhead structures. Gunite concrete is typically sprayed pneumatically onto surfaces at a high velocity using a nozzle. As it's shot into a frame or prepared structural formwork, the placement and compaction process occur simultaneously. Only a highly skilled, certified nozzleman should apply gunite.
Benefits Of Gunite
Gunite is highly versatile with several advantages compared to regular concrete, including the ability to be shot into any undulating, spherical or curving form, which makes it the concrete of choice for special shapes and features. It's also more durable with higher mechanical strength and offers increased bond strength because structures are less porous. Since the application process is quicker and the concrete sets faster, using gunite also helps reduce construction time and lower costs.
Gunite Uses
The smooth surface and versatility of gunite concrete makes it ideal for swimming pools, but it's also a prime option for other water-retaining structures, including seawalls, river walls, canal linings, pipelines, aqueducts, dams, reservoirs, water towers and irrigation and drainage channels. Other common uses for gunite concrete include:
Artificial caves
Artificial waterfalls
Retaining walls
Tunnel construction
Slope stabilization
Skate parks
Domes
Bridges
Refractory lining
Architectural or landscape features
Repair and restoration of any of the above structures
Contact Us
Best Concrete Mix Corp. has been providing premium concrete mixtures to a diverse clientele since 1992. We're a leading supplier of gunite concrete mix and numerous other concrete products and offer timely deliveries from our two fully modernized concrete production facilities in Flushing. Contact us at 718-539-5946 with all your concrete questions, or to place your order for concrete today.