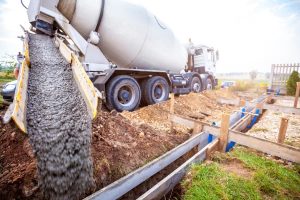 Mass concrete is any large volume of cast-in-place concrete with dimensions large enough to require specific measures to counteract heat generation and volume changes to effectively minimize cracking. Like standard concrete, mass concrete is primarily composed of cement, water and aggregate, but it also has pozzolans and other admixtures to improve its characteristics. The one characteristic that distinguishes it from other concrete types is its thermal behavior. Our knowledgeable concrete contractors at Best Concrete Mix Corp. in Flushing, New York, understand all the variables involved in mass concrete and can help you create the right ready-mix concrete for your particular construction needs.
Benefits Of Mass Concrete
Strict measurements of temperatures from several key locations are vital to keep mass concrete from cracking, which is especially important in mass concrete construction projects that would require the concrete to be removed and replaced for even a single crack. We know how to properly position mass concrete mixtures to achieve:
The most economical project completion
Lower temperature-rise potential with adequate workability for placement
Adequate strength, durability and impermeability no matter what structure is used
Mass Concrete Applications
Historically, mass concrete has been used for large structural elements, including dams, bridge piers, pile caps, large beams and girders and other structures that require large volume placement. Other common applications include:
Foundations for large loads
Slab or mat foundations for steel buildings
Foundations for buoyancy control
Thick, solid walls or slabs
We also understand the causes of and how to cope with the inherent problems associated with mass concrete, including high internal temperatures and temperature-related cracking that can ruin a construction project's outcome and increase production costs. When placed and maintained properly, mass concrete produces massive structures that provide numerous years of service.
Build With The Best Concrete
Best Concrete Mix Corp. is a leading concrete contractor with in-depth knowledge of the challenges working with mass concrete presents. We provide superior products and services and timely deliveries from our two fully modernized concrete production facilities in Flushing to help you successfully complete even the largest mass concrete construction projects on time and on budget. Contact us at 718-539-5946 for more detailed information about the demands of mass concrete, or to order the concrete you need today.