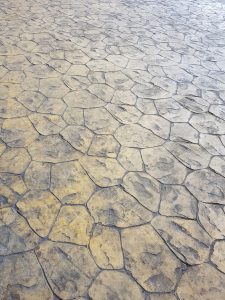 Stamped concrete is an innovative choice that's highly popular in both residential and commercial construction projects. Also called imprinted concrete or textured concrete, stamped concrete is a type of architectural concrete that allows you to create realistic patterns similar to more costly materials, such as natural stone, granite and tile. Professional stamping pads place impressions in the concrete for a highly aesthetic look in a strong, long-lasting surface. At Best Concrete Mix Corp., our skilled stamped concrete contractors help you create a mix to satisfy your architectural needs while meeting your budgetary limits.
Benefits Of Stamped Concrete
When properly installed, decorative stamped concrete offers the same strength and durability as conventional concrete and requires very little maintenance. It's also highly versatile with a wide array of colors, patterns and textures to choose from, which allows you to create stamped concrete that blends with the local environment or any design you desire. When using stamped concrete for interior or exterior floors, you receive a smoother, more even surface than can be accomplished with bricks, tiles or wood. You can install stamped concrete year-round in most regions, and when properly sealed, it withstands the harshest weather extremes. With sufficient reinforcement, it even performs well under heavy foot and light vehicle traffic.
Stamped Concrete Applications
Stamped concrete is ideal anywhere you want a more decorative appearance and makes a great choice for beautifying residential patios, pool decks, driveways, pathways and entryways. Due to its durability, longevity and ability to withstand heavy foot traffic, it's also popular in commercial applications meant to enhance public places, including parking lots, courtyards, lobbies, shopping malls, theme parks and zoos.
While stamped concrete is typically used outdoors, it's becoming a popular concrete choice for interior applications. Common indoor uses include:
Interior flooring in kitchens, bathrooms, basements and entrances
Enhancements to walls or fireplaces
Countertops, bathroom vanities and bar tops
Overlays to existing concrete floors that can be stamped like conventional stamped concrete
Best Concrete Mix Corp. is a leading stamped concrete contractor and top supplier of all types of concrete. Our superior products and services and timely deliveries from our two modern concrete production facilities in Flushing, New York, have helped us exceed our customers' expectations since 1992. Contact us at 718-539-5946 to learn more about the stamped concrete process, or to place your concrete order today.