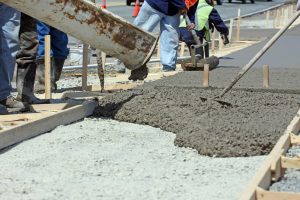 High early strength concrete is a special purpose concrete designed especially for applications that require an increased early strength development. While it can take the place of standard concrete in all applications, this type of concrete is typically only used in specific situations, such as when roadways need to be reopened quickly or a structure needs to be put into service as soon as possible. Our knowledgeable concrete contractors at Best Concrete Mix Corp. in Flushing, New York, can help you determine whether your project warrants high early concrete.
High Early Concrete Composition
High early concrete mixtures are designed to hydrate quicker for fast setting, which speeds up your construction project. However, the same composition that provides quick-set benefits also causes increased shrinkage and could lead to more cracking. We advise only experienced construction professionals to use high early concrete.
Benefits Of High Early Concrete
High early ready-mix concrete is ideal for rapid construction, especially in cold weather conditions when standard concrete sets very slowly. When you use high early concrete for required pavement repairs on busy highways, everyone benefits greatly from reduced road closure time. Other benefits include:
Greater flexibility in construction schedules
Lower concrete consumption when using thinner elements
Improved site capacity by increasing rotation of formwork
Quicker removal of formwork
Minimal amount of grinding required for smoothness
Minimized closure time for roads or structures
Ability to use in extreme winter conditions
Improved service life of roads or structures
Supports its own weight in two to three hours
Foot traffic approximately six hours after placement
Light vehicle traffic approximately 24 hours after placement
Heavy weight traffic as soon as it achieves acceptable structural levels
High Early Concrete Applications
Application of high early concrete is most suitable for civil engineering or other projects that require a quick turnaround time. Common applications include:
Rapid concrete pavement repairs
Pavement replacement
New pavement
Airport pavement
Heavy equipment foundations and footings
Bridge decks
Concrete overlays
New construction of walls, columns, beams or floors
On-site precast operations
Best Concrete Mix Corp. has two fully modernized concrete production facilities in Flushing, New York, to provide quick delivery to your construction site. We've been a leading concrete supplier since 1992 and serve a diverse clientele. Contact us at 718-539-5946 to learn more about our superior concrete products, or to place your order today.