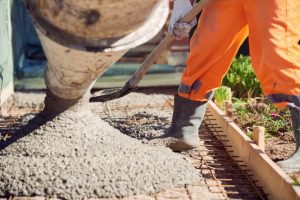 Concrete is one of the most widely used construction materials in the world, but different types of concrete are suitable for different applications and construction projects. Lightweight concrete mixtures are made with lightweight coarse aggregate, which creates lighter versions of standard concrete mixtures and provides numerous benefits to the building industry. Our knowledgeable concrete contractors at Best Concrete Mix Corp. in Flushing, New York, provide numerous types of concrete to a diverse clientele, including lightweight concrete mixtures to meet your specific construction needs.
Composition Differences
Standard concrete typically includes a mixture of crushed natural stone, cement, water and sand. The density of the stone increases the overall weight of the concrete mixture, which increases the cost of transportation. Lightweight concrete mixtures use various alternate aggregate materials, such as more porous rock or manufacturing by-products, which may include pumice, fly ash, slag, clay, shale or slate. While the differences in composition don't significantly impact the compressive strength, lightweight concrete has a significantly longer drying process and may have a reduced structural weight after it's dried.
Advantages Of Lightweight Concrete
Due to the lowered weight of lightweight concrete, there's less weight on a building's structural load. This makes it an ideal product when you need to reduce a building's load, which is especially important in tall buildings and projects that would otherwise have to be abandoned because of excessive weight. Other advantages of lightweight concrete include:
Reduced weight of wet concrete that allows longer spans to be poured with reduced formwork and propping, which saves on time and labor costs
Savings in foundation and reinforcement due to reduced dead load
More economical lower haulage weight
Improved thermal properties with relatively low thermal conductivity
Improved fire resistance
Lightweight Concrete Applications
Lightweight concrete has numerous applications, depending upon its composition. Some common applications include:
Roofing tiles
Countertops
Garden pavers
Insulating walls
Long-span bridges
Floor underlayment
Reinforced concrete
Insulating water pipes
External walls of small homes
Thermal insulation for protecting steel structures
Partition walls and panel walls in frame structures
Walls with wood or other materials being attached by nails
Since 1992, Best Concrete Mix Corp. has been a leading concrete supplier, with superior concrete products delivered in a timely manner from our two modernized concrete production plants located in Flushing, New York. Contact us at 718-539-5946 for general inquiries, or to place your lightweight concrete order today.