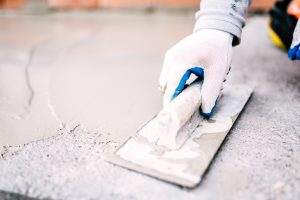 Pouring concrete floors with traditional concrete mixes can be a challenge. Ensuring a smooth surface requires extensive trowel work which, for unpracticed hands, is difficult to get just right. Self-leveling concrete, also known as self-consolidating concrete, flattens out to a level surface on its own, reducing the need for technical proficiency with hand leveling.
What is Self-Consolidating Concrete?
Self-consolidating concrete, also known as self-compacting concrete (SCC), is a highly flowable, non-segregating concrete that spreads into place, fills formwork, and encapsulates even the most congested reinforcement, all without any mechanical vibration.
How is Self-Consolidating Concrete Used?
SCC is an increasingly attractive choice for optimizing site manpower (through reduction of labor and possibly skill level), lowering noise levels, and allowing for a safer working environment. SCC allows easier pumping (even from bottom up), flows into complex shapes, transitions through inaccessible spots, and minimizes voids around embedded items to produce a high degree of homogeneity and uniformity. That's why SCC allows for denser reinforcement, optimized concrete sections and shapes, and greater freedom of design while producing superior surface finishes and textures.
Let Us Help You on Your Next Project!
At Best Concrete Mix Corp., we supply many different types of projects. We are equipped with two batching plants that produce large amounts of concrete to meet the needs of our customers and industry standards. These capabilities are reflected in the diversity of products and services we offer to our customers. Put our team's experience and know-how to work on your next project.