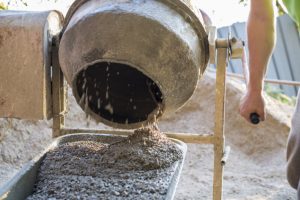 Quality ready-mix concrete is essential to ensure your job is completed to the highest standards — and you're on a tight schedule. You need a dependable local Flushing, NY concrete supplier who can deliver the proper mix on time to your job site. Whether you are working on a highway or a high rise, Best Concrete ensures you have the concrete mix you need when you're ready to pour.
We are the go-to ready-mix concrete supplier in Flushing for municipal projects such as the police academy and MTA. We also have many private contractor clients who trust Best Concrete Mix Corp exclusively to pour their concrete slabs. Whether you're constructing a sports stadium, a gas station or a parking lot, we can deliver concrete to your exact specifications.
Types of Ready Mix Concrete
Our concrete experts are happy to advise you on the best type of concrete for your particular building project. We offer the following types of concrete delivered to your site in the Flushing, NY area:
Permeable (Pervious or porous): Water passes through this type of concrete so that run-off won't pool on the surface and can reach the ground below.
High-strength concrete: Can achieve great strength with a relatively small amount of concrete, for depths of more than 2 inches.
Flexural strength concrete: Resists complex bending forces.
Self-consolidating (SSC): Fluid self-leveling concrete product that flows in a freeform manner around obstacle and corners.
Shotcrete (Gunite): Durable, small-aggregate concrete sprayed over rebar to create a smooth surface for applications like a swimming pool.
Expanded polystyrene (EPS): Lighter weight "green" concrete mix.
High early concrete: Hydrates quicker to set sooner, for experienced contractors only.
And more.
Get The Ideal Mix From Flushing's Trusted Concrete Supplier
If you want to produce your best work for your client, rely on the experienced team at Best Concrete for your ready mix. There's no need to think, "where can I get ready-mix concrete near me in the Flushing, NY area?" Simply order your ready-mix concrete from Best Concrete Mix Corp today.